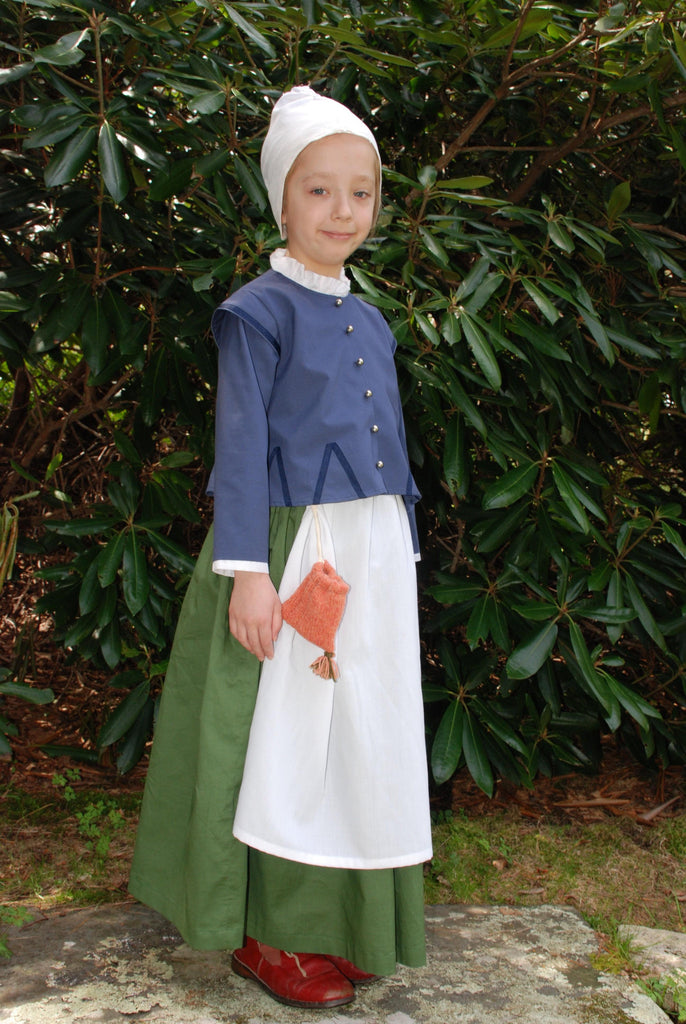 Dress Like a Pilgrim Girl
---
Our Historic Clothing and Textiles team have researched clothing styles of the early 17th century and developed patterns based on their historical research. From pictorial evidence as well as existing apparel in museum collections we have been able to re-create the type of clothing worn by the English Colonists who lived here in the early 17th century. Four-hundred years ago these clothes were made of wool and linen, which is what our historical performers wear in the English Village. 
We wanted to offer something more budget-friendly for all those school and church plays in the fall, or just for playing dress up. Our children's clothing is based on the same basic patterns we use for our actors, but made with a cotton-polyester blend fabric that is machine washable. Fabric colors are combinations of blue, green and burgundy.  The jacket and skirt are sewn together so it's one simple piece to put on and take off. Hook and loop closure make it easy. Complete the look with a coif (white fabric head covering) and apron. Each piece sold separately.
Made in Massachusetts.
Please allow 4-6 weeks for delivery.
---
Share this Product
---
More from this collection