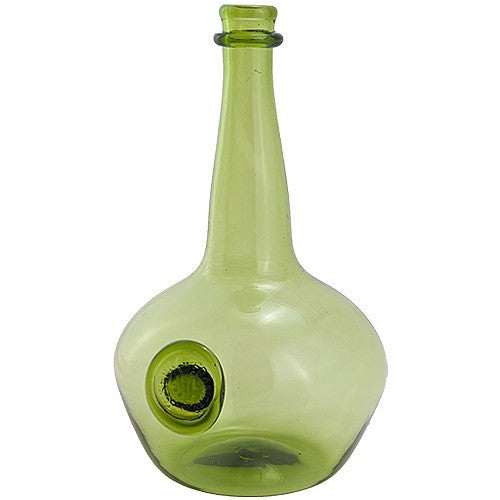 Green Joseph Frances Wine Bottle
---
This Piece is a Historical Reproduction. This special item bears the seal for Joseph Frances, the same monogram embedded on a shaft and globe bottle artifact dating back to 1650-1660 available on display at the Jamestown Visitor Center Museum. During the colonial era it was customary for someone to have personalized seals and monograms put onto bottles for a number of reasons: to ensure the correct person received a delivery, a sign of a person's wealth and status, or a symbol of ancestry. Today this practice has helped us experience the lives of early Colonial settlers, discover significant persons from the Colonial era, as well as uncover prominent crafts that have survived to present day.
Individually hand blown this item is subject to slight irregularities but continues the tradition of original glass craftsmanship established at the Jamestown Glasshouse in 1608.
Approximately 10'' tall. 
Wash with warm water. 
Do not put this item in a dishwasher or oven. It is temperature sensitive. 
Made in the USA.
---
Share this Product
---
More from this collection