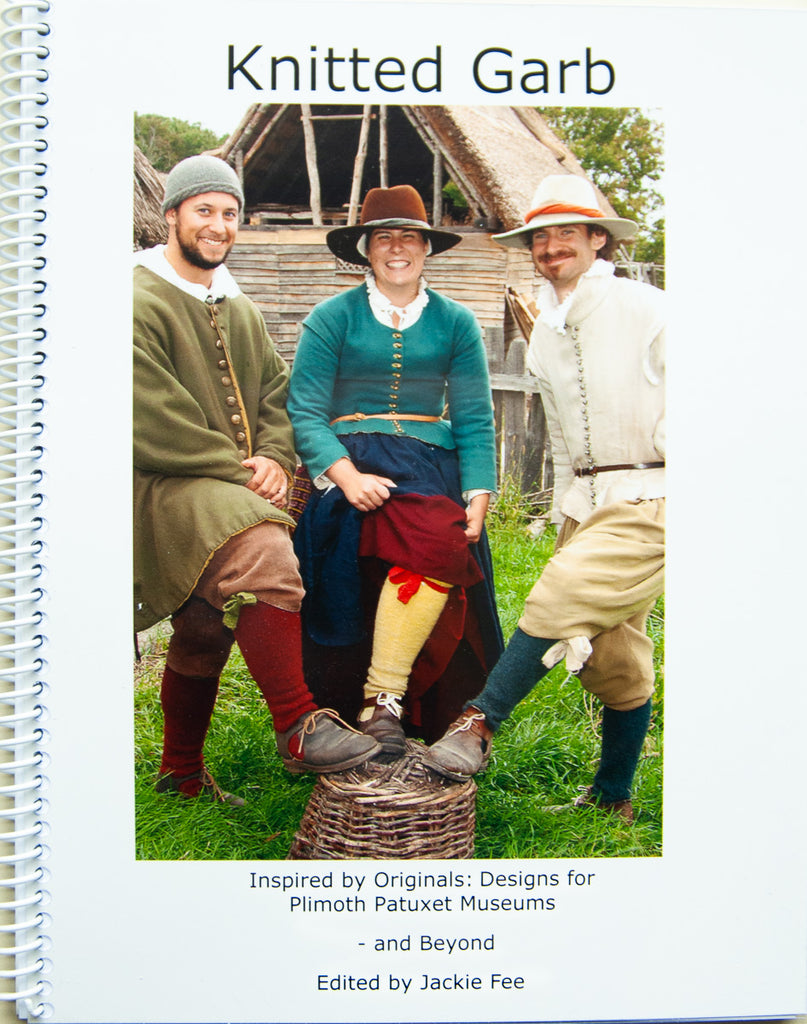 Knitted Garb - Inspired by Originals: Designs for Plimoth Patuxet Museums and Beyond
---
Edited By Jackie Fee
At Plimoth Patuxet, where history is brought to life for the museum's 350,000 annual visitors, 17th-century craft is alive and well. Knitted Garb—Inspired by Originals is a reflection of the museum's legacy of experimental archaeology and reviving traditional craft techniques.
This publication, created in collaboration with The Weavers' Guild of Boston and The Greater Boston Knitting Guild, is a remarkable, breakthrough accomplishment in the world of historical textile reproduction. This book presents the collection of Plimoth Patuxet knitting patterns revised by Jackie Fee, author of The Sweater Workshop, who is known for her clear, thorough, easy-to-follow directions.
In 2010, Plimoth Patuxet began the Plimoth Knitters' Club, a volunteer knitting group that meets regularly to knit reproduction articles for the museum's Historical Clothing and Textiles Department. Upon joining the club, members were given patterns and yarn to complete three articles in the course of a year. As Jackie Fee recalls, "It soon became apparent that the pattern directions, some of which dated back 32 years to the Monographs, as well as to more recent designers, lacked consistency as to knitting terminology, recommended yarns, needles, gauge and were without sizing."
Fee began revising all the patterns being used by the Knitters' Club. "The directions are now written to assure knitters with an easy understanding of the terminology and basic construction as they work each article. Care was taken to include the details of the original while adapting gauge and yarn weights for today's knitter," she noted.
The 12 patterns featured are:
Gunnister Purse

Tudor Rose Pocket

Gunnister Cap with Turned-up Brim

Knitted Flat Cap

Thrummed Cap

Gunnister Cloves

Museum of the City of London Mittens

Knitted Waistcoat

​Charles I Tunic

17thc Clocked Stockings

Tudor Stockings

Garters for Stockings
---
Share this Product
---
More from this collection