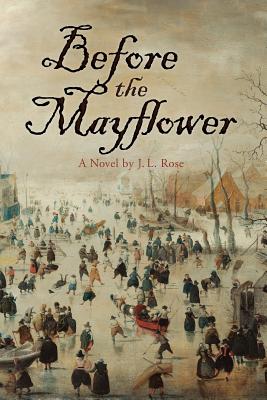 ---
By J. L. Rose
Southampton, England, 1620: The Mayflower sits, waiting for those who dare to board her. What would compel a person to leave a place like England or the Netherlands and sail across the Atlantic Ocean to the New World, with death a likely outcome? Was it for love, land, or religious freedom?
London, England, 1587: A chance meeting between William Brewster, a clerk in the court of Queen Elizabeth, and a young master printer would be the beginning of a relationship lasting more than three decades. Both marry and lead their families on very different paths, one fleeing to the Netherlands in search of religious freedom, the other remaining steadfast to the rules of King James in England.
Linked by the printing press, one man abides by the law, while the other publishes forbidden books. The families are further entwined when a romance is born between an eldest son and youngest daughter. Reconnected on the docks in Southampton, they stand all together again, in the shadow of the ships. Who will step aboard, risking their very soul, and join the venture?
About the Author: A Williams College graduate, the author is a former historical interpreter in the 17th-century English Village at Plimoth Patuxet Museums. While she was at Williams, a course in seventeenth-century Dutch art spawned an interest in the Golden Age of Dutch history, ultimately connecting her to the group of English people who separated from the King's Church and sought refuge in Leyden, Holland from 1609-1620. Only a fraction of that congregation sailed on the Mayflower, but their path is remarkable. The author resides in Duxbury, Massachusetts, USA with her husband, twins, and dog, Marco. 
J. L. Rose kindly 
donates proceeds from this book to Plimoth Patuxet Museums (Plymouth, Massachusetts, USA) and to the American Leiden Pilgrim Museum (Leiden, the Netherlands). Donations will also be offered to the Pieterskerk, Hooglandsekerk, and Weaver's House Museum (Leiden, the Netherlands), as well as the Rijksmuseum (Amsterdam, the Netherlands)
---
Share this Product
---
More from this collection