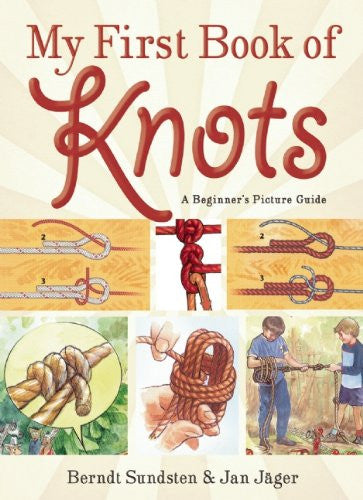 My First Book of Knots: A Beginner's Picture Guide
---
By Berndt Sundsten and Jan Jäger
A beginner's guide to knot tying for both the child and the child at heart.

Knot tying might be an unusual, humble craft, but it is also one of the most useful and practical skills that continues to instruct and entertain people of all ages, whether child or adult. Specifically catered to the young at heart, this charming picture guidebook of knots will school your child, grandchild, godchild, and perhaps even yourself in the valuable art of knot tying.

While knots may not be easy to learn, My First Book of Knots simplifies the craft and brings the reader into the world of knots through beautiful, detailed illustrations. Learn how to secure knots for use in outdoor activities such as fishing, camping, ranching, farming, and many more. You will learn how Santa Claus ties up his sack of presents, or how to tie a knot that will help you lift heavy objects. Each knot is illustrated step-by-step, with clear, engaging instructions. Wow your friends with a double figure eight bend, or save the day with a square knot.

My First Book of Knots is a landmark gift that will impact children (and craft-loving adults) with hours of fun and a lifetime of skills. Create memories and embark on the journey of knot tying together.
---
Share this Product
---
More from this collection