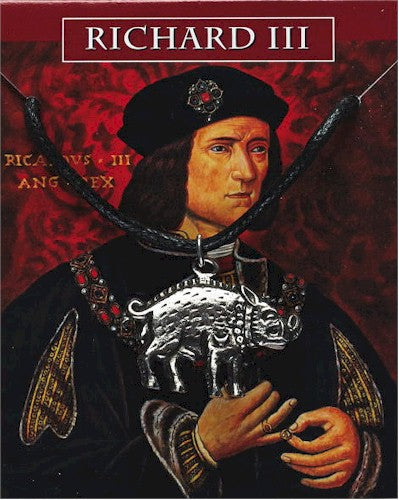 Richard III Boar Pendant - Pewter
---
Richard III's ruthless seizure of the crown in 1483 left a core of bitter opposition. He successfully put down a rebellion led by the Duke of Buckingham, but in 1485 Henry Tudor returned from exile. On 22 August 1485 Henry Tudor faced Richard III's army at Bosworth Field. Richard was struck down in the conflict and Henry Tudor became King Henry VII.
The white boar was Richard III's emblem during the War of the Roses. Many of his supporters wore a boar badge to demonstrate their loyalty to the king.
This pewter reproduction of Richard III's Boar Emblem is supplied on a waxed cord. The information on the card is about Richard III's reign, his boar emblem and coinage.
---
Share this Product
---
More from this collection