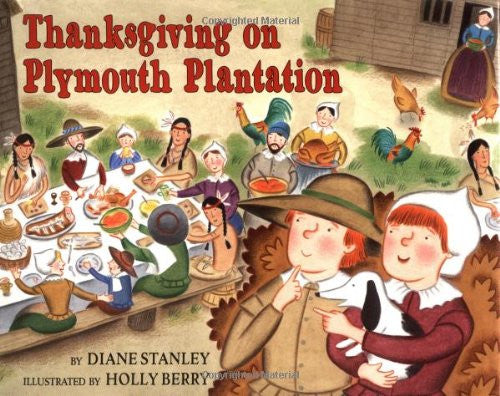 Thanksgiving on Plymouth Plantation
---
By Diane Stanley
Wouldn't it be great to be part of that famous Thanksgiving feast at Plymouth Plantation back in 1621?
Then join the Time-Traveling Twins as they sit down to an enormous THREE-DAY feast, complete with puddings, pompions, pottages, and, of course, turkeys. Meet Squanto and the other Native Americans. Help with the harvest. Find out what it was like to be a Pilgrim.
Once again, historian Diane Stanley's fun and impeccably researched text is brought to life by Holly Berry's accessible illustrations. Word balloons, engaging characters, and all sorts of wonderful details about the beginning of this American tradition await the lucky adventurer who journeys back with the Time-Traveling Twins.
---
Share this Product
---
More from this collection