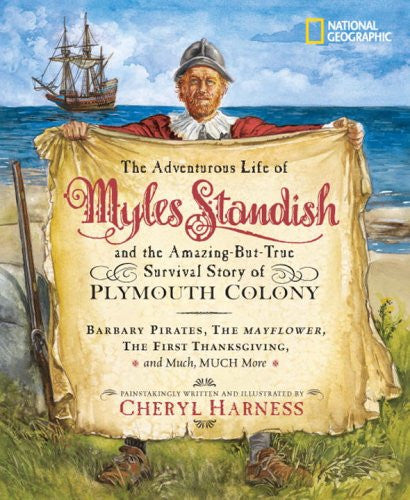 The Adventurous Life of Myles Standish and the Amazing-but-True Survival Story of Plymouth Colony: Barbary Pirates, the Mayflower, the First ... Much, Much More
---
By Cheryl Harness
Say hello to Myles Standish, a fiery man with short legs and an even shorter temper. When he got mad his face turned as red as his hair, earning him the nickname "Captaine Shrimpe."

It's a story that has been told for almost 400 years—how a brave band of people set sail on the Mayflower to find a new life in America.

By weaving her chatty, narrative text with her incredibly detailed artwork, award-winning author-illustrator Cheryl Harness makes readers feel as though they are part of the adventure.

Students will discover all sorts of things they never knew before: that a teenage boy almost blew up the Mayflower and that the first Indian the Pilgrims met greeted them in English! They'll learn more serious things, too: all about why they came, the hardships they suffered, the people they met, and the successes they achieved.

Middle-graders will experience one of history's great adventures as only Cheryl Harness can tell it.
Available in paperback and hardcover.
---
Share this Product
---
More from this collection