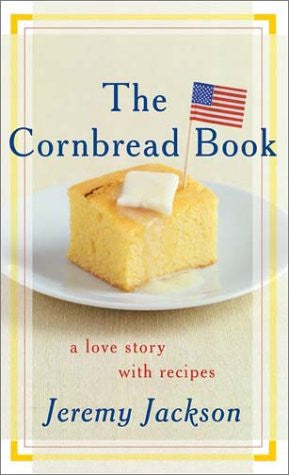 The Cornbread Book: A Love Story with Recipes
---
By Jeremy Jackson
Cornbread is the American bread. The by-the-people-for-the-people bread. So it should be put forth to the people with humor. And a whole lot of butter.
The Cornbread Book does just that with recipes for cornbreads, fritters, hush puppies, and biscuits. Cornbreads of the sweet persuasion appear, too, from biscotti to pound cake. And there are yeast breads such as Anadama Batter Bread and Cornmeal Pizza Dough. Don't forget timeless favorites like spoonbread, buttermilk cornbread, and popovers. Not to mention Gospel Buns, Sweet Potato Cupcakes, and Honey Snail (which doesn't come within ten miles of an actual snail).
Cornbread doesn't even have to be made with cornmeal. Hominy-Leek Monkey Bread has riced hominy. And Jeremy is as proud as a peacock to have come up with three yeast breads made with flour he milled from popped popcorn (Popcorn White Loaf, Popcorn Pita Bread, and Popcorn Focaccia). In the unlikely event you have any leftover cornbread, Jeremy has recipes for cornbread salad, croutons, and dressing.
And if you ever meet Jeremy, he might just sing you "The Cornbread Song" . . .
---
Share this Product
---
More from this collection